Annuals
Annuals are a great choice for any garden, whether its full sun to full shade. Annuals will bloom all summer and add a splash of color to any garden or container. Annuals are considered to be plants that grow to their full size, set seed and die at the end of a single season. However, for practical use, we also include tender perennials in this category. Plants like impatiens, fuschias and coleus, for example, live longer than one season in frost free climates but die out in our climate because of the harsh winters.
Create a flower garden entirely from annuals, or tuck them into a perennial garden to add summer long colour. Whether you want to go wild with colour, or are looking for a calmer approach, annuals are sure to fit the bill! Our selection of annuals is too long to list here but drop by the greenhouse and you won't be disappointed!

Container Gardening 101
Designing a great container can be tricky! Here's a few quick guidelines that turns it back into fun!
It's best to start with fresh potting mix (soil) each year for your container or basket. Starting with fresh soil and washed out containers ensures that there is no possible carry-over of disease or harmful insects from last year's season. Choose a potting mix that conserves moisture while still providing good drainage.
Flowers in containers require more frequent watering than the same flowers planted in a garden bed. Because of this, pick a potting mix that is designed for containers rather than garden beds because the container mix is designed to hold moisture.
The addition of a slow release fertilizer to the soil mix lessens the need to remember to fertilize. Typical formulations last for up to three months in the soil before being used up by the plant. The amount of time the fertilizer is effective can depend on amount of waterings or rains that dissolve the fertilizer and wash it out of the container.
Nature's Source Fertilizer, although not a slow release fertilizer, remains in the soil until the plant uses it up. Nature's Source Fertilizer makes fantastic sense for containers. This fertilizer grows a stocky plant with vibrant, healthy foliage. Nature's Source Fertilizer doesn't leach out (wash out) of the soil like other fertilizers do with watering, but adheres to the molecules of the soil mix so the plant can utilize all of the fertilizer's goodness. (And, yes, we do stock this fertilizer because it works for us ! It's the one we use in the greenhouse.)

We carry different types of potting soils and fertilizer, as well many varieties of containers for all garden and yard needs!
Choosing your container
Your choice of plants will depend in a large part on what type of container you are designing. Sitting pots benefit from tall upright plants, while hanging baskets should have shorter, compact, and trailing plants. As well, the colour and style of the container can complement or contrast the flowers that planted.
Now for the fun part, choosing your plants! We have hundreds of varieties and colour choices to choose from.
Unless your container will be against a fence or wall, it is a good idea to make it balanced on all sides.
Remember to think of how much sunshine the container will get and chose appropriate plants. Having trouble choosing while doing your spring shopping? We're happy to help point out plants for shade, sun or somewhere in between, and what goes well together.
Choosing Colours
Colours that are opposite each other on the colour wheel will complement each other, and create vibrancy. For example; purple and yellow work well, blue and orange or red and green. Play around with it, you never know what you might create!
Colours that are beside each other on the colour wheel harmonize, creating a serene, peaceful effect. The serene colour combinations include different shades of the same colour, like purple and lavender with a touch of white.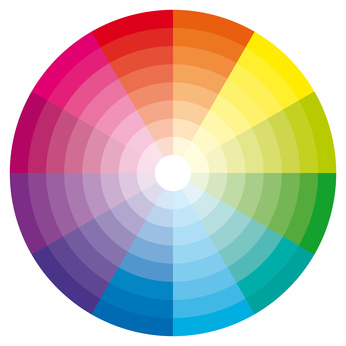 THRILLERS, FILLERS AND SPILLERS
Remember a Thriller (tall plant), a filler (medium height) and a spiller (trailing plant) when shopping, designing a container becomes easy and fun.
THRILLERS
TALL PLANTS FOR THE CENTER. THESE ADD DRAMA, ENERGY AND VISUAL INTEREST TO YOUR CONTAINER.
Hanging baskets need short thrillers or fillers for the centre plant
For sitting containers consider: Spikes, Millet, Juncus, Baby Tut and King Tut Grass, Red Sensation Cordyline, Green Fountain Grass, Purple Fountain Grass, Cannas, Agyranthemum, Whopper begonias
FILLERS
THESE PLANTS GO AROUND THE CENTER THRILLER PLANTS AND ADD BODY TO YOUR CONTAINER.
Fillers are shorter than your chosen thriller and fill in the body of the container.
Consider: mounding petunias, mounding verbena, osteospermum, bracteantha, diascia, strawberries, Non-stop begonias, dianthus, single and double impatiens, heliotrope, pansies, violas, dahlias, Sunpatiens, geraniums, Penstemon, mounding calibrachoa
SPILLERS
TRAILING PLANTS THAT HANG OVER THE SIDES.
Spillers hang over the sides, lending a romantic, softer look to the container or hanging basket.
Consider for sun: lotus vine, vinca vine, trailing petunias, trailing verbenas, bacopa, dipladenia, scaevola, trailing ivy geraniums, sweet potato vine, Silver Falls dichondra, Cool Wave pansies, glechoma, trailing calibrachoa, lobelia, petchoa, lantana, Silver Mist helichrysum, Happy Hour portulaca, Double Wave petunias, Black Eyed Susan vine.
Consider for shade: Illumination begonias,trailing fuschias, English ivy, German Ivy
Throw Out the Rule Book!
Sometimes the best containers are the ones that have just your favourite plants. Summer is short and there is no reason to not fill up containers with your favourite plants, even if they don't harmonize perfectly according to the colour wheel! Go wild, enjoy summer, make your own rule book!
Multispecies Designer Combinations
Three plants in designer combos in one pot, is a quick and easy way to do containers or baskets. Ready to plant and priced at only $8.99, these combos are a savings over buying basket stuffers individually. One is enough to fill a 10" - 14" container!